The Kabutoyama custom made Ba-Ri chamfering Machine KSG-500
We are proud to announce the versatile KGS-500 Series chamfering machine, custom made to meet your diverse processing needs and demands and automated for higher on site productivity. Hob processing can be problematic with large scale Ba-Ri Chamfering processes. There are various approaches to tackling spindle equipped gear and the stepped gear molding and Ba-Ri chamfering. Machines can be configured to suit current site equipment. Select 1st, 2nd, or 3rd spindle processing or even 3 place simultaneous processing. Units installed as option.
The KGS-510 Type with 1 spindle specification, adjustable to suit form or chamfering work requirements, with a choice of vertical or horizontal set up. Can be matched to the Gantry Loader gearing on automated lines.
The KSG-550 type standard vertical 2 spindle machine. Both side simultaneous processing is possible with the one chucking, leading to a noticeable rise in productivity. This universal type chamfering machine can be conformed for 1 spindle processing.
With the KSG-560 type special 3 spindle specification, 3 place simultaneous processing is actualized. In addition, various types of processing can be accomplished as the Ba-Ri chamfering and brush unit are installed.
Of course, most types of unique form replicating systems are adaptable. With this system, part replication is carried out while the rotor bar turns at full speed. The alignment of the difficult processing program and work is not necessary. In addition, the KSG-500 series links to the automation system, raising productivity of the Ba-Ri chamfering processes. Various choices of automatic gantry connection and robot supply etc, means the demands of the customer is met.
Enquiries regarding work pieces welcome
Depending upon usage,
processing using 1st, 2nd, or
3 spindle type can be chosen.
◎

Select from 1, 2 or 3 spindles on the standard machine.

◎

Machine specifications can be modified to customer requirements

◎

Automation coupling (loader, gantry and robot)

◎

One chucking simultaneous processing possible.

◎

Easy change of set up for high mix, low volume production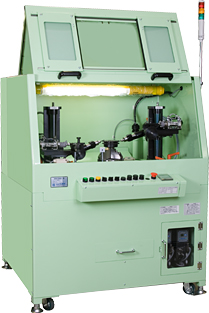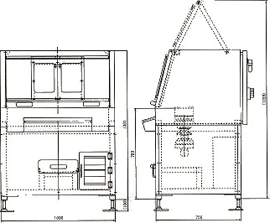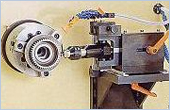 KSG-500 Type
[1 spindle specification]
◎

1 spindle specification. Vertical and horizontal types available.

◎

photograph shows gearing for gantry loader.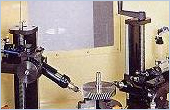 KSG-500 Type
[2 spindle specification]
◎

Principal vertical spindle type, 2 parameter standard machine

◎

Can be used independently with the flick of a switch. Convenient, Universal Type.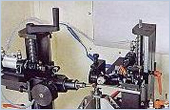 KSG-560 Type
[3 spindle type machine]
◎

special 3 spindle type machine. 3 place processing is possible

◎

Illustration of large scale Ba-Ri chamfering processing machine


Type/ Series
KSG-510
KSG-550
KSG-560
Number of Process Spindles
1 spindle
2 spindle
3 spindle
Processing Module
M0.75∼M6
Chamfering Ability
Iron: 0.2~0.8 molding: 0.2~1.2 brass: 0.2~1.0
Process Piece Size
min25Φ x 20L max500Φ x 150L
Fitted Blade Tool Collet Diameter
3.0 or 6.0
Electric Power Consumption
1KVA
Air Consumption
0.2
Machine Size
(Width x Depth x Height) mm
900 x 1000 x 1380
1000 x 750 x 1350
weight (approximate)
250kg
300kg
400kg