The low cost Bali Chamfering Machine.
General Purpose replicating type chamfering machine.
To meet the demands of reduced costs and time in the chamfering process, While increasing productivity and quality, we offer the KSG-300 series. The technology cultivated through sales of the KSG-500 series has been utilized in this compact & low priced unit.
The unique form replicating type KSG-300 series Ba-Ri chamfering program-less processor makes positioning unnecessary. Adjusting the program, unit position and level to the desired quantity, blade tool contact pressure is simple. Duplicating processing continues while the rotary bar turns at full speed, processing external and internal diameters of the various unique parts. This system supports small lot and large volume unit production.
Until recently, Ba-Ri Chamfering was a manual operation. Now productivity can be increased by selecting 2 spindle specification and 1 spindle + brush uni specification, for one chuck simultaneous processing. High quality & high efficiency chamfering now requires less manpower.
In regards to any Ba-Ri chamfering work which requires inner and outer diameter matching, processing of various unusual shaped parts such as automobile, bicycle and manufacturing machine parts, various gears, sprockets, or worm wheel work, and manufacturing machine parts, various gears, sprockets, or worm wheel work, Please feel free to enquire for assistance. Test processing services are available.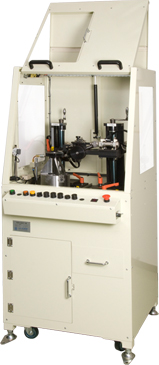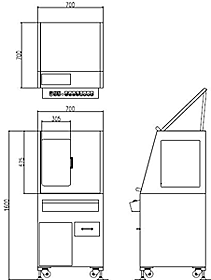 Matches inside and outer diameter for odd shaped parts!
• Various gear and sprocket Ba-Ri chamfering
• Automobile parts, motorcycle parts chamfering
• Manufacturing machine parts chamfering etc.
◎

At last, a general purpose, low cost chamfering machine!

◎

Choose from 3 types of standard machine

◎

One Chuck Simultaneous processing

◎

Simple to re-program, ideal for varied piece, low volume production.

◎

Air Chuck, Air Motor Equipment

◎

Economical space installation (W800 x D800mm)


Type/ Series
KSG-310
KSG-350
KSG-360
Number of Process Spindles
1 spindle
2 spindle
1 spindle plus brush
Processing Module
M0.75∼M8
Chamfering Ability
Iron: 0.2~0.8 molding: 0.2~1.2 brass: 0.2~1.0
Process Piece Size
min25Φ x 20L max180Φ x 150L
Fitted Blade Tool Collet Diameter
3.0 or 6.0
Electric Power Consumption
1KVA
Air Consumption ℓ/min
230
460
460
Machine Size
(Width x Depth x Height) mm
800 x 800 x 1600
Weight (approximate)
270kg
300kg
300kg